Service Policies
---
---
Craft Capacity
CANOES: Our canoes are designed to carry two people. It is possible to have three adults in a canoe with the third individual sitting on the floor of the canoe. You may also have two adults (10+) and two children (2-9) in one canoe.
We consider anyone age ten and older as an adult and will NOT let any child under the age of 2 out for safety reasons. Also for safety there must be one adult (10+) per child (2-9) in a canoe.
KAYAKS & TUBES: Both our kayaks and tubes are single person crafts. You must be 10 years of age or four feet tall to use these watercraft. There is absolutely no doubling up on these watercraft for your own safety. No Child under the age of 5 will be permitted in a tube. No Child under the age of 8 will be permitted in a kayak. While kayaking, there must be 1 adult (10+) per child (8-9).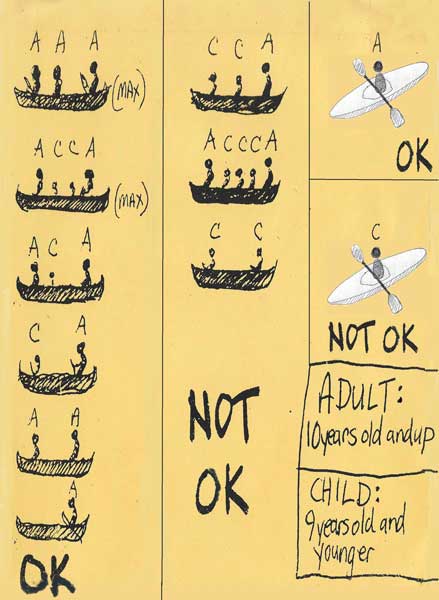 ---
Age Limits
We consider anyone of age 10 and older as an adult in regards to craft capacity. Children are considered 2-9 years of age.
In a canoe, there MUST be one adult (10+) per child (2-9) for safety.
While kayaking, there MUST be one adult (10+) per child (8-9). No child under 8 years of age will be permitted to kayak.
Children between the ages of 2-4 will be permitted in canoes only. No child under 5 years of age will be permitted to tube.
Children under the age of 2 are not permitted on any of our trips for their safety.
---
Footwear
The Brandywine Creek is a natural waterway with many things that can injure your feet. We require that each participant wears secure footwear. This means something that ties or straps to your feet. Water Shoes, Sandals with a heel strap, crocs etc are acceptable. No flip flops! For those that need, we do sell good water shoes at a good price. If you have questions please call.
---
Groups
We have had hundreds of successful group outings ranging from corporate events to family reunions. We host school trips, scouting events, Church programs along with camp and youth groups. If you have a group that wants to enjoy the Brandywine River, we are able to help.
Groups of 10 or more crafts REQUIRE reservations. Payment in full must be received 7 days prior to the scheduled trip and numbers finalized. If your group cannot make the trip you schedule, no refund is given; however, we will work with you to reschedule your trip for a different date.
---
Alcohol
Alcohol is not permitted on trips and will not be tolerated on the company property Pennsylvania law prohibits watercraft operation while under the influence of alcohol or a controlled substance. Alcohol and controlled substances are strictly prohibited in our parking lot, picnic areas and watercrafts.
---
Discounts
We offer several discounts throughout the week. No discounts are available on Holidays or Weekends.
Monday is pet day. Bring your loyal companion for a day on the river and receive $10 off your canoe rental. (No pets are permitted in kayaks or tubes)
Tuesday and Thursday are double discount days. We offer $20 off your canoe or kayak rental. (Not valid for schools, camps, or large groups of 10 or more)
Wednesday is our Senior discount day. Enjoy $10 off your canoe or kayak rental if you have reached the age of 55.
Friday is $10 off on canoe and kayak trips.
Don't forget to bring your "Just the Canoe of Us" post cards for $2 off any trip. These can be used one per craft (including tubes), are combinable with the discounts above, and are given out at the end of our trips. You may have one already.
---
Refunds
We do not offer refunds as a standard policy. Weather during outdoor adventures can change throughout the course of the day. Though we try to make sound predictions about the weather Mother Nature has a mind of her own. In the event the weather turns inclement prior to your launch, we will be happy to reschedule your trip for another day.